çWould you prefer this?
You can specify blueprint placement.
No tools required.
Requires no additional footing for support
Install or remove in a minute with one person.
Clear work area.
Great savings of valuable time...lumber...space.
Safety improvement at the work site.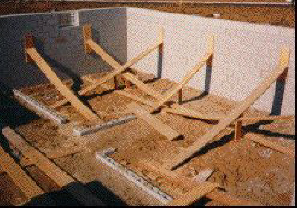 Or this Headache?è
Transport cumbersome lumber.
Tolls required: power source, hammer, nails, shovel, saw, tape measure.
Measure and cut pieces.
Expensive skilled labor.
Lack of good anchor points.
Bracing interferes with work area.
Wastes valuable lumber.